Your user research reading list (22)
June 02, 2018
This is what we have been reading this week. Really interesting stuff about user research from various sources. We thought we should share this with you. Enjoy!

How to Visualize Your Qualitative User Research Results for Maximum Impact
When thinking about visualization of research results, many people will automatically have an image of a graph in mind. Do you have that image, too? You would be right in thinking that many research results benefit from a graph-like visualization, showing trends and anomalies. But this is mainly true for...
By the way: As you will know, there is a really good alternative to the affinity diagrams that are suggested in this article. Guess what it is? It's the theme builder feature in our Meaning Maker product, of course. If you want to know more about it, click here.
How To Deliver A Successful UX Project In The Healthcare Sector
UX researchers can learn a lot from hospital patients through empathetic interviews — but that alone is not enough. Instead, you need to pay particular attention to how your users' clinical context influences their perceptions, trust, and the care they receive.
Snapchat: a UX case study
Problem : Snapchat releases a product update that suddenly most of the user base dislikes.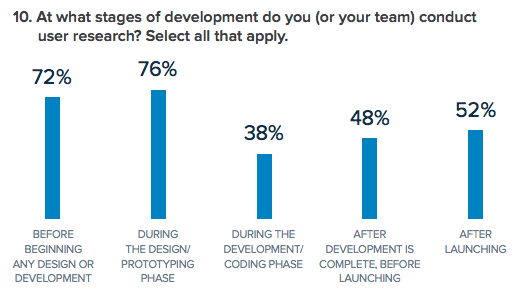 When is the best time to do user research?
When is the best time to do user research? Chart of the day: Most user experience (UX) research is conducted during the design and prototyping phase 76% do UX research during the design and prototyping phase, whilst 72% do user research before design and development. Just over half (52%) also do user research after launching. It isn't recommended to only do.
User Research Can Help to Avoid Big Design Mistakes
UX research should not be optional on any design project, especially if your design is intended to be used by humans.
P.S. You can get started with Meaning Maker for free today. Sign up here to get your account:
Easy setup • Free trial with one multi-study project